Boeing 737 Jet Crashes In Iran Killing Everybody On Board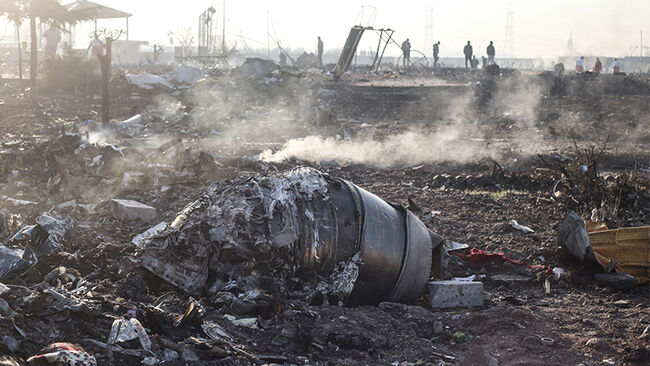 A Boeing 737 bound for Kyiv, Ukraine, crashed minutes after taking off from Imam Khomeini International Airport in the Iranian capital of Tehran, killing all 176 people on board. There were 167 passengers and nine crew members on the Ukrainian International Airlines flight.
The Ukrainian Minister for Foreign Affairs said that there were 82 Iranians and 63 Canadians on board, along with citizens of Sweden, Afghanistan, Germany, and the United Kingdom.
The crash occurred hours after Iran launched missiles targeting U.S. forces stationed in Iraq. 
The plane was at an altitude of roughly 8,000 feet when it disappeared from radar just two minutes after takeoff. Initial reports suggest the plane crashed due to technical problems, but officials cautioned it could take months for investigators to determine the exact cause.
Ukrainian Prime Minister Oleksiy Honcharuk told reporters that "any versions before the official conclusion is just manipulation," when asked if the plane was brought down by a missile. 
Iran's state-run TV network shared a video on Twitter purportedly showing the plane crash. In the footage, a bright light can be seen crashing toward the ground, as smaller balls of fire trail behind. When the object hits the ground, it explodes into a giant fireball that lights up the sky.
A spokesperson for the airline said the plane was serviced on January 6, and technicians found nothing wrong with the jet.
Investigators have recovered the black box, but it is unclear if they will send it to another country to be analyzed. 
The plane was a Boeing 737-800, which is a different model from the 737 MAX that's been grounded around the world after two deadly crashes.
Photo: Getty Images